Pyarey Lal Razdan
NOTE: If you have picture/profile/biodata/songs of this artiste that you would like to share with us, please send it to webmaster@koshur.org. Your contribution will be acknowledged. Thanks.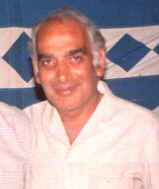 Photo courtesy: Dalip Langoo
Shri P.L. Razdan is a noted broadcaster, actor and playwright whose outstanding contribution through radio, television and stage is well received.