Director's Note
Aka Nandun is a popular folk legend of Kashmir. Many a known poets of Kashmir have composed the tale in seven to 14 cantos and a few playwrights have written its stage versions earlier as well.
Moti Lal Kemmu's Aka Nandun is in two acts. It has been written primarily for Bhand artistes so that they could include this play in their repertoire. The first act is full of humour, mime, wit and satire, the second act has pathos, agony and pain. The ending is as per tradition and happy one. The play has soofi undertones and fully uses the vakhs and shrukhs of Lal Ded and Nund Rishi. The playwright has given new interpretation to the tale.
The play contains folk style songs and dances. It has been so designed that Bhands can give open air performance as per their age old practice.
All the musical notes and tunes are Kashmiri folk and Sofiyana tunes.
---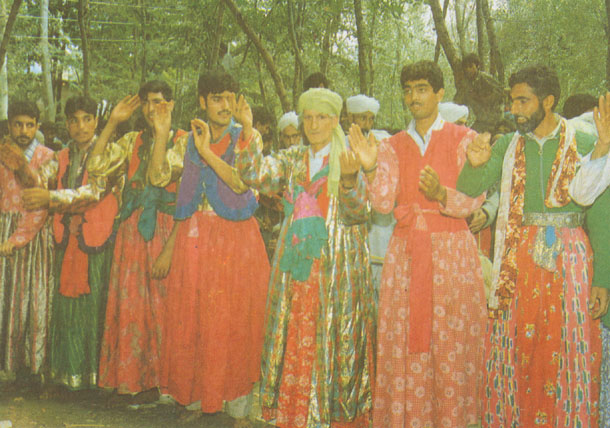 Wathora is a village, 13 Kms. away from Srinagar . It has hcen inhabited by Bhands for the last two centuries. These Bhands are known for soofiyana singing, Bandh pather and folk dances. There are several registered parties still practicing the traditional art in the village but the National Bhand Theatre has emerged as one of the foremost folk theatres to present Bhand pather plays in and outside the State . The theatre won laurels in 1984-85 with its participation in the first National Theatre Festival of Sangeet Natak Akademi with Ashiq Te Gopali under Shri Ravi Kemmu's direction.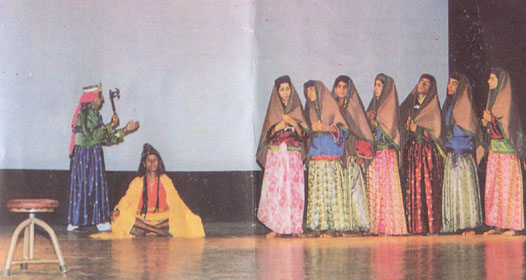 To do a workshop with these artistes is to infuse new strength in them to preserve this form and encourage new generation to keenly pursue the art. How for present endeavour, production of Aka Nandun will be succcessful, can be judged by the people after viewing it in the open Jashans.