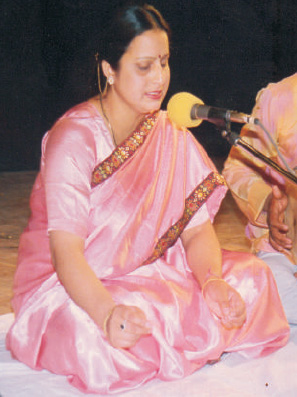 Anuradha Tikku

Anuradha Tikku is an artiste who has already carved a niche for herself in the world of Indian music. An extremely versatile singer, she has a repertoire which is rich, varied and exuberant, ranging from Classical Ragas to the Soulful Bhajans with blend of Folk Music, Sufi and Ghazals. Born on the 16th of March, 1969 in far-flung valley village Mea Mandir of Shopian district of Jammu and Kashmir state, this illustrious singer was lucky enough to be initiated into music by his uncle late Sh. Jagannath Raina, a devoted Devotional musician herself, after which his formal training in vocal music started under his virtuoso Guru from Jaipur Gharana, the renowned Pandit Jugal Kishor Nigam.

After his untimely sad demise she then placed herself under the tutelage of Pandit Kundan Mal Sharma in Jaipur who instilled both vigor and luster in the voice of her talented disciple. She has also had the privilege of learning
under Pandit Bholanath Mishra some popular styles of singing of Indian classical music, i.e. Thumari, Dadra, Cheti, Hori, Tappa, etc. for sometime. At present, she is honing her skills further under the noted Violoncellists and
Rajasthani maestro Pandit Jaikumar Panwar.

Presntly living in Jaipur, Anuradha Tikku has a pleasing musical personality and sings in a voice, which is melodious, subtle, and deep. She successfully adapts her style to render fluent khayals, sprightly thumris, sensuous and soulful bhajans. Her khayal expositions are impeccable with lively compositions and intricate and fluent tans. Her singing reveals a whole gamut of emotions and never fails to leave the audience mesmerized.

She has performed in many music conferences and festivals in many parts of India and it is a continuous process. She has performed on many regional TV channels, i.e. ETV Rajasthan, Zee TV Punjabi, DD Kashir to name a few.
Courtesy: Rudresh Kaul