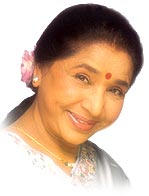 Versatility could well be Asha Bhosle's second name. No type of song has been beyond her vocal range be it a club dance, sad song, bhajan, ghazal, pop etc.

Like her older sister Lata Mangeshkar, Asha also initially did a small stint as a child artist. But being trained in classical music by her father Dinanath Mangeshkar it was more natural she too turn to playback singing like Lata did.

Asha made her playback debut in 1948 with the film Chunariya. But it took a long, long time for Asha to make it to the top. It's not as if singing opportunities didn't come her way. In fact in the 1950s Asha sang more songs than any other playback singer but the bulk of these were in small films with no distinction. And if she did get a chance to sing in an A film it was probably just the song of the heroine's friend or a female duet with bigger singers like Lata, Shamshad Begum or Geeta Dutt. But Asha had no choice. Having made an ill-advised marriage which alienated her from her family, she had to take up all the assignments she got to fend for her children.

1957 was her breakthrough year when O.P. Nayyar used her to sing the heroine's songs in Tumsa Nahin Dekha and Naya Daur. The same year S.D. Burman had his rift with Lata. And though Geeta Dutt could have been his next choice after Lata since she was already a mature singer while Asha was still raw, Geeta's troubled marriage did not make her easily available for rehearsals. Consequently S.D. Burman chose to groom Asha along with O.P. Nayyar rather than wait for Geeta.

The following year Asha made it right to the top with hit songs in films like Howrah Bridge (1958), Chalti ka Naam Ghadi (1958) and Lajwanti (1958). Asha got involved with O.P. Nayyar and thereafter she remained his premier singer till their break-up in the 1970s.

Initially Asha's voice did sound influenced by Geeta Dutt's style of singing but post 1957 she came into her own and how! By the end of the decade she was second only to Lata on the playback scene and the two sisters have ruled the playback scene well into the 90s.

The 1960s saw Asha at her best as she belted out her best songs particularly under O.P. Nayyar's baton - Aankhon se Jo Utri hai Dil Mein from Phir Wohi Dil Laya Hoon (1964), Jayiye Aap Kahaan Jayenge from Mere Sanam (1965) and Woh Haseen Dard De Do from Humsaaya (1968) to name but a few. However In spite of her incredible emotive ability she was getting typecast in songs that were more on the sensual side.

O.P. Nayyar and Asha split in the 1970s but not before he composed the prophetic gem Chain se Humko Kabhi which won her the Filmfare Award.

The 1970s also brought her close with R.D. Burman who gave her a new hip and happening sound altogether. Piya Tu Ab To Aajaa (Caravan (1971)), Dum Maro Dum (Hare Rama Hare Krishna (1971)), offered fresh and stimulating challenges to her voice. Jaane Jaa from Jawaani Diwaani (1972) had her switching from the higher scales to the absolute lower ones within the song with ease!

But as she had been typecast in mainly sensual songs earlier so also with R.D. Burman and other composers she now got typecast in mainly Western type of songs.

It was Umrao Jaan (1981) which showed further new possibilities in Asha's voice. Khayyam got her to sing the ghazals in the film two notes lower and the result was magical! Dil Cheez Kya Hai, In Aankhon ki Masti, Yeh Kaisi Jagah hai Doston, Justaju Jiski Ki represent some of the finest singing Asha has ever done.

Ijaazat (1987) saw her in top form winning a National Award for Mera Kuch Samaan, a most difficult song to sing as the lyrics were more in prose form rather than standard rhythmic verse.

In the 1990s Asha has even further widened her horizon by succesfully coming out with albums in Indipop and beating the Indian pop artists on their own turf. Though she has cut down on her singing now she still makes an Urmila Matonder or Aishwarya Rai sizzle in Rangeela (1994) or Taal (1999).

The latest feather in Asha's already crowded cap is the Dada Saheb Phalke Award for her contribution to Indian Cinema.

Source: Upperstall.com

NOTE: Versatility is definitely Asha's second name. Her two Kashmiri songs provide enough evidence of that.
| | |
| --- | --- |
| | Title |
| | Lalas wantai chhu sawaal |
| | Ha ashkI tchhooro, rashkI kerthas |