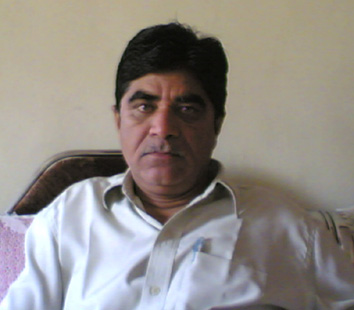 Sh. Ashok Raina
e-mail: ashokraina_gopinathtrust@yahoo.com
Shri. Ashok ji Raina is very well known in our community in Srinagar (Kashmir), Jammu, Delhi and Pune. He has been living in Pune from last 4 years. Soon after getting settled in Pune he guided us to conduct havans, deveotional music sabhas and due to his sincere efforts Kashmiri Bhavan Pune observe Havan every first sunday of the month.
During the havan not only he recite the mantras in our traditional authentic Kashmiri style, he also recites by singing Kashmiri transalations of some of the shalokas as rendered by some of the well known scholars of our community. He punctuates the rituals in such a manner with God given gift that makes this monthly Havan a memoraible one.
Shri. Ashok ji has learnt the Sanskrit shalokas from some of the best scholars who used to visit Tullamul, Pokhribal and Hari Parbhat (Chakrishwar) every Saturday nights. Whole night every one of them use to recite shalokas at the feet of the Goddess Sharikha. His rendering of the Sanskrit shalokas is in our typical kashmiri style the way we have heard our grand parents or Gurus of that period recite.
Ashok ji out of Love, Interest & Bhakhti has taken so much interest in the rituals, he has participated in life that he is today a well versed person in this. He is a commerce graduate and has diploma in Business adminstartion. He is currently connected with one of the best known auto ancillaries in our country as a consultant.
Ashokji has recorded for many religious organisations of our community & did I tell you he does not charge a penny nor does he ask for any royalities?
Till now in our knowledge, he has the following list of official recordings to his credits:
Bhagwan Gopinath Ashram
5 Cassetts/Volumes of Panchastavi in Kashmiri

4 Cassetts/Volumes of Gurugeeta in Kashmiri

5 Cassetts/Volumes of Bhajans in Kashmiri

3 Cassetts/Volumes of Mahimna Par & Lala valk
Alkeshwari Trust
Ishwar Ashram[Swami Laxmanji]
Over 10000 of his cassettes are said to have been sold to date.
The above mentioned list doesn't end here and there could/may be still many unofficial cassetts/recordings done by him and we are still unaware from this valuable treasure.
Profile/Picture submitted by:
Sandeep Raina (e-mail: sandeepraina_pune@yahoo.co.in)