Girja makes forays into Bollywood
by Avtar Bhat
Girja Pandit is the first Kashmiri female singer who writes and sings the bhajans in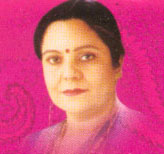 both the Hindi and Kashmiri languages. A versatile artiste, Girja came into prominence after her albums Beda Par Karo Jagdambey and Raghupati Raghav Rajaram hit the stands last year.
These two albums were released by veteran actor, Ranjeet who was the chief guest at a function held at Hotel Seaside, Mumbai on August 26, last year in presence of some music and TV personalities.
Besides, Girja, Beda Par Karo Jagadmbey has singers, Suresh Wadkar and Sudha Sharad. The numbers of Raghupati Raghav Rajaram have been sung by Uday Mazumdar along with Girja. The music to both these albums was composed by Kamlesh Mehta. The latter has been penned and composed by Girja Pandit and the album has been released by Nice Music. After gaining popularity in the albums, Girja has now turned towards the commercial music and she recorded a romantic album Payal Baje with Roop Kumar Rathod. This album will shortly be released by Nice Music.
Girja, a disciple of famous Music Director, Bhajan Sopori, is today a national level Kashmiri singer. Her admirers say, the patience, struggle and confidence are the main factors needed today to get a break as singer and this melodious Kashmiri singer possesses all these qualities.
It is also one of the reasons that Girja achieved her goal instantly in the form of four devotional releases. The first album released by her was Param pad paun re through which she made an entry as a singer-composer. The album was released by Venus and in addition to Girja Pandit, Vinod Rathod and Sudha Sharad have lent their voice to it.
Besides Girja is also working for small screen like Ibadat (title track) written by her and Hare Kaanch Ki Chudiyan as singer and Music Director. Three of her Bhajan albums are also ready for release. Kabir and Mira (as singer composer) and Shidi Sai has her lyrics. Kabir and Mira are co-rendered with Uday Mazumdar and the last one with Suresh Wadkar.
After coming to prominence some years ago Girja Pandit, did not look back. She made her presence felt in the music world after getting her four albums released one after other which were highly acclaimed by the music lovers. The name and fame which this young versatile artist attained day by day is merely due to her talent and hard work.
But Girja gives the credit to her father, Mr. Janki Nath Koul, a renowned devotional poet, her mother-in-law, Nirmala Pandit also a spiritual lady and Guru, Bhajan Sopori.
Music is both worship and passion for Girja, who was exhorted from her very childhood to join this line after getting inspired by her father.
Girja, who is a graduate from Kashmir University has also learnt classical music from Mahinder Jit a renowned Music Director who has launched some best singers of the country.
This melodious singer was so interested in the music from her childhood that she took part in school functions as a small child and to her utmost surprise it really paid as she was awarded by Begum Sheikh Mohammed Abdullah when she was a seventh class student in Government Girl Higher Secondary School Anantnag way back in seventies. Later, she participated in various music concerts at College level and sang for Radio Kashmir, Srinagar.
Since then the music became an integral part of her life and she devoted herself to it. It was her sheer devotion to music and art that Girja has been selected for the playback singing for his movies in Bollywood. She has undertaken the job under the guidance of renowned Music Director, Trivani Prasad Jaipurwale.
Her Album of Kashmiri Panchastavi which was composed by late Jia Lal Saraf was also released recently. Girja's hits include Jai Maa Laxmi Mata in Hindi and Rachtam Meh Padan Tal a cassette of Kashmiri bhajans was released over a week before.