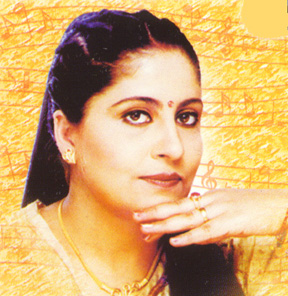 When Nirja Pandit was selected at the All India Radio audition in 1981, little did the young, simple Kashmiri girl know that a foundation was being laid for a promising future. After completing her post-graduation in music from Chandigarh University, she went on to undertake training in classical music from Pandit Bhajan Sopori, renowned santoor exponent.
After establishing herself on the radio, for which Nirja had worked relentlessly during her college days, she started getting professional training in playback singing techniques from the late Shambhu Sen.
Nirja then went on to do several live shows with music composers Lalit and Sameer Sen. It was then that the television industry began paying attention to her remarkable talent. And before she could say a...re...ga..., Nirja found herself singing for popular serials like Gul Gulshan Gulfam, Chahat Aur Nafrat, Mast Mast Zindagi and Tere Mere Sapne. She has also lent her voice for Sarhad, a teleserial to be aired on Zee's Alpha TV, for which the music has been composed by Lalit Sen. Sant Sarovar, a music album released by Magnasound had her rendering three duets with Suresh Wadkar, Udit Narayan and Mohammed Aziz.
By now, even the film industry has begun to recognise Nirja as a promising singer and she recently sang an alaap in the title song of the movie, Khoobsoorat, starring Urmila Matondkar and Sanjay Dutt.
But undoubtedly, the best thing to have happened to Nirja in her career so far is the release of her first solo album Cheshma Bu Wondai, a compilation of Kashmiri folk songs. With lyrics written by the late Bhagyavani, a well-known Kashmiri Sufi poetess, and music composed by Pandit Bhajan Sopori, her latest release has seen her as an independent singer trying to carve a niche for herself. Ask her what a Kashmiri album is doing in the midst of Hindi and Punjabi songs, pat comes the reply, "We have left Kashmir long ago and this generation seems to be wiping it out of its memories. The lest we can do is try and strive to keep the beauty of that land alive through our culture and tradition. Music, which has no barriers cuts through our differences. This album is just a small effort to give our generation a glimpse of the enchanting music that echoes in the silent valleys and on the snow-capped mountains of Kashmir."
In the current music scenario which is dominated by a changing list of singers, Nirja is preparing herself for a long innings. Her future plans include a Hindi pop album which is scheduled to be released this month. But with her Kashmiri album, Neerja has tried to keep alive the natural rhythm of the flowing rivers of the valley.