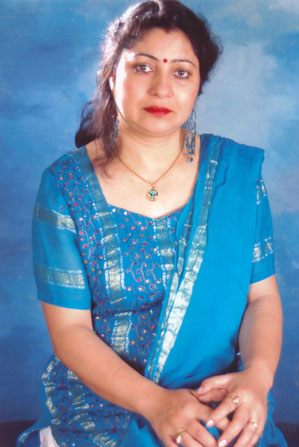 Veena (Sadhu) Koul has had a great flair and love for Indian classical music and acting right from her childhood. She got lot of encouragement from her Parents (Prof. C. L. Sadhu and Mrs. Sheila Sadhu) in her initial days of sadhana. Ultimately, that explored her way in to All India Radio, Srinagar (Kashmir) and Kashmir TV and became a recognised artiste both on Radio and TV. She has sung many Kashmiri songs (solo and duet) and also acted in Kashmiri plays and movies. She completed her M.A. and B.Ed from Kashmir University without taking any break from her activities for which she has had great passion and love.

She is highly indebted with gratitude to her guru jee, param pujaya Pandit Shambu Nath Sopori, father of Pt. Bhajan Sopori from whom she got initial training in Srinagar (Kashmir).

She continued her passion even after she got married to Kaulís family outside Kashmir and also got her M.Ed. from M.S. University, Baroda. She gave lot of live performances in India e.g., Chandigarh, Mumbai. Pune, Baroda.

At the moment she stays in Pune (India) with her family and continuing her sadhana daily.