Vijay Kumar Tulloo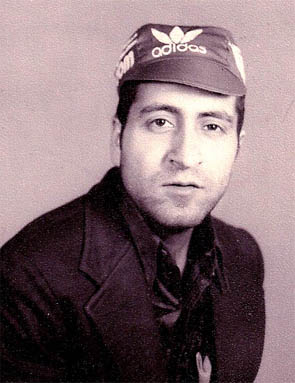 Vijay hails from Ganpatyar Srinagar; he is a Freelance light music Singer and associated as member of Miltsar India Group since 1988.
At the age of 8 years Mr Pushkar Raina recorded his voice first, who happened to be his cousin who himself was a versatile actor of 60's and known for his role in Shayre Kashmir Mehjoor and was addressed as Dileep Kumar of Kashmir.
Shri Pushkar was his first Guru who infused in him the confidence that he was a gifted singer with the magical voice, informs Vijay.
His father Shri Mohan Lal Tulloo ji too inspired him and supported his journey towards singing career.
His father introduced him to Shri Kishen Langoo ji who trained him with the basics of Music and gifted him with his great compositions. Shri Langoo blessed the singer with great creations and through KALA KENDRA his songs were appreciated everywhere.
Shri Langoo also experimented with a singer duo for the first time in Kashmir valley with Vijay and Dalip Langoo and gifted Radio, TV and Stage with soothing music compositions in different forms of singing through this duo. The duo was popularly known as the Rajan and Sajan Mishra of Kashmir.
Later Pt. Shri Bhajan Sopori ji too inspired him with his guidance and a few compositions.
He sang since 1975 on various platforms like Radio, Television, and Stage.
He is an approved singer of AIR Radio Kashmir gifted with a unique voice that while doing a musical presentation makes a listener spell bound.
His unique, rich voice and singing style has made a special place among the cream of artistes the Valley has ever produced.
The singer has to his credit the famous TV serial of 90's, Gul Gulshan Gulfam in which he lent his voice to the most popular song number "Latiye Naar Zaajnam Tan" apart from being a co singer for its title song with Dalip Langoo and other singers.
He also has to his credit "Mehjoor centenary celebrations 1988" in which he visited the entire state of Jammu & Kashmir and sang along with the Miltsar Group the famous song numbers of Mehjoor.
He has also to his credit several number of music albums, title songs of several TV serials and lots of solo performances on Stage concerts. After exodus too he was always appreciated for his singing and always maintained his reputation that of a magical singer. His voice is unparalleled.
Once Vijay Kumar Malla said during a "jugalbandi" (while singing together with Vijay Tulloo at one occasion in Srinagar) for this singer that "had God given him such a magical voice he would have been in Films or got established instantly as a singer in comparison with the great singers of the sub continent".
Vijay Tulloo's Persian song that he sang for Jaikishen Zutshis TELE FILM, MASHAL, "Lala Lailee Lailee Jouan", made him known for his valuable contributions in the field of singing. Radio Kashmir too has his dozens of popular song numbers that fetch listeners from across the border from POK as well. Most recently Vijay has recorded his songs from Radio after a long gap and his freshness can be judged by his nectar creating magical voice even today. May God give him unparalleled success and fame that he actually deserves.
Courtesy: Dalip Langoo