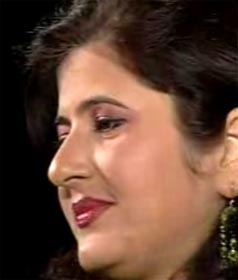 Deepali Wattal
Smt. Deepali Wattal is a melody queen who has become a shining star in the Kashmiri music Industry. Deepali ji is a compelling singer who has mesmerized her audience all around the world with her golden voice. She is our invited artist from Jammu and Kashmir.
Deepali ji started her career in 1990 and has since then sung more than 2000 songs in different language which includes playback for few Punjabi, Dogri and Pahari movies.
Deeplai ji received her Bachelors' Degree in Arts with Music and Master's Degree in Music from Punjab University, Chandigarh. She is currently perusing Ph.D in music and works as a Lecturer in Music (Vocal) - Institute Of Music and Fine Arts, Jammu since, 2001.
Deepali ji has sung in many music albums since 1990. Here are some to name a few, Bachaes Darmach Yaaris Patay (Kashmiri), Gaah – Songs of Habba Khatoon (Kashmiri), Rindha Ho (Kashmiri), Vesiye Su Gulfam (Kashmiri), Yaad Pyom (Kashmiri), Waala Mashoke Miyane – Songs of Raje Begum (Kashmiri), Devotional Albums (2) of Krishna Joo Rajdhan (Kashmiri), Zayestha Mata (Devotional Album) (Kashmiri), Saroor - Bhajans (Kashmiri), Songs of Habba Khatoon for KBC England (Kashmiri), Vaen Posh (Kashmiri), Su Maane Pooji (Gopinath) (Kashmiri), Bhav Posh (Bhajans) (Kashmiri), Aiete Rooz Madanvaro (Kashmiri), Two Leela Albums of Bhawgan Gopinath (Kashmiri), Aalau (Kashmiri), Posh Puza (Kashmiri Bhajans), Kashmiri Bhajans for Prem Sangeet Nikatan, Sohihniye Gujrani (Gojri), Prem Rog (Himachali), Thandiya Hawaavan (Himachali), Saazna Tere Pyare Maa (Bhaderwahi) , Kachi Kali (Pahari), Neelama (Himachali), Dukhiye Kuhugayi (Gojri), Saajna Dili Siye (Bhaderwahi) , Paren Di Yan Panjaban (Dogri Songs for T-Series), Soon Saz (Kashmiri), Rongli Madani (Dogri), Qatre Qatre Main Tu (Hindi), Tu Hi Nirankar (Two Albums in Hindi)
Deepali ji has sung in various Tele serials and programs for Doordarshan. Here are a few of them, REH-TE-AAB (Kashmiri), SOUKH (Kashmiri), ABHIMAN (Hindustani) , WAQTUK PARTAV (Kashmiri), JHANKAR (Urdu), MANZIL NIKA (Kashmiri), FIRDOUS KE NAGEME (Kashmiri), NIMBAL (Dogri), HEEMAL NAGRIA (Kashmiri), ALAV (Kashmiri), GULNAR (Kashmiri), SOONSAZ (Kashmiri), HARMALIYE (Kashmiri), KUNJUVA – CHANCHALO (Dogri) and numerous other serials and Musical programmes for Prasar Bharti Broad Casting Corporation and All India Radio, since 1990.
Deepali ji has composed Music for Albums/Serials such as "Leelas of Krishan Joo Razdan Vol. 4", "Hits of Brijnath Hali (Kashmiri)", "Hits of Deepali Wattal (Kashmiri)", "Dhoop Chaven Tele Serial for Door Darshan Kendra" to name a few.