Music from the Distant Valleys
- R. C. Ganjoo
Sunday Mail, New Delhi, October 1, 1994
Known as Malika-e-Ghazal, Kailash Mehra's is a household name among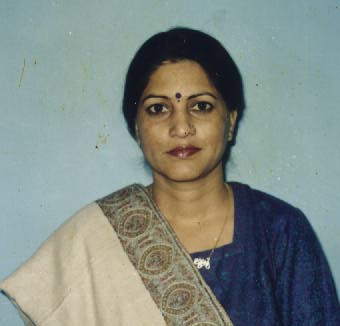 Kashmiri families in India or abroad. Born in Dogra, Naini Tal, in 1956, she received her education in Srinagar.
She earned fame singing Kashmiri ghazals and songs and her recordings in Kashmiri, Urdu, Gujarati, Sanskrit, Punjabi, Hindi, Persian, Bhaderwahi, Pahari and in Kannad languages have been appreciated by millions.
She did her post graduation in music from Panjab University, Chandigarh, earning another master's degree in vocal music from Prayag Sangeet Samiti, Allahabad, in 1975. In 1979 she was appointed a lecturer in music at the Women's College in Anantnag.
God has gifted her with a good voice. Her teacher, Swarup Nath Sapru, noted her talents when she was in Std. III, studying in Devki Arya Puri Pathshala, Srinagar. Shamboo Nath Sopori, her guru, gave her basic training in music and later his son, Bhajan Sopori, guided her in Kashmiri light music.
She passed her radio audition in Kashmiri and Urdu as a student. Her songs in Kashmiri became famous.
Kailash participated in music competitions organised by the state cultural academy. Her stage performances were organised in Patna, Lucknow, Calcutta, Madras, Trivandrum, Hyderabad, Bangalore and Delhi. She sung in Kanad language on stage and her voice was liked by the audiences.
She took part in the fourth Festival of Music organised by the Kashmiri Overseas Association of Britain in 1985. She also sung for the film Aarnimall.
She was given the title, Malika-e-Ghazal in 1993 by the Jammu Vikas Sanstha. The Sadiq memorial Committee awarded her the Mehboob Awami Funkara in 1981 and she was chosen the best singer by the Sri Bhat Smarak Samiti in 1980.
Kailash married Vijay Kumar Sadhu, a district fire officer in 1980. It was love at first sight and she has high regard for her mother-in-law who fully supports her musical inclinations.
"I did not face much difficulty in adjusting to a Kashmiri family as I was brought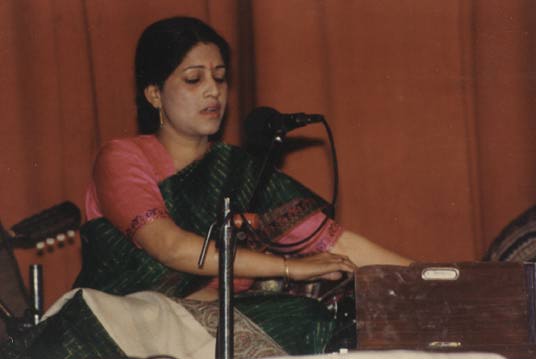 up in that environment." According to her, language plays a vital role in cementing relations. "My husband speaks Dogri very well and talks to my mother, Maya devi, in Dogri only. I picked up Kashmiri language very fast," she said.

Her four sisters and two brothers are also gifted. Her mother was a good singer but never performed on stage or radio. Her father, Dani Ram Mehra, died when Kailash was in Std. V.

Kailash was unable to expose her talents because there was no scope to do so in Jammu and Kashmir. Asked what she desired in her younger days when she had earned a name for herself, she said: "I wanted to make a mark so that people remember me after my death."

People have recorded her songs on their own as she has not released any cassette of her Kashmiri songs.

After migrating from Kashmir valley in 1990, she felt lost for two years. "But I was delighted when I used to listen to my songs being played by people and talking about me in Jammu." She migrated to jammu, leaving behind her property.

"The migration has affected the literary field. Artistes have not yet come out of their shock." At present she teaches at Jammu's MAM College for migrant students.

She said the present generation will be inclined towards the scientific era rather than music. "Music was not being taken seriously," she said, adding, "I have yet to spot a student who could learn music with dedication."

Mostly singing Bhajan Sopori's compositions, she has equal regard for Nasarullah, Mohammed Ashraf, Krishan Langoo, and A. K. Jalali, big names in music composition. Her favourite Kashmiri singer is Shameema Dev, wife of the Union Tourism Minister Ghulam Nabi Azad. Among the national singers, jagjit Singh is her favourite. The list of poets who influenced her include Rasool Mir, Rahim Sahib, Shamas Faqir, Dinanath Nadim and Motilal Saqi.

After her marriage she added her husband's name Sadhu. "I was recognised as Kailash Mehra but my husband's role is equally important in developing my personality and image after marriage. That is why I put Sadhu after my name."

Kailash is blessed with two sons. "I don't suppose they would do much in this field. Because artistes in this profession live and die with name and fame, but no money."
| | |
| --- | --- |
| | Title |
| | Matai chhus be wuchhan chanai watas |
| | Kaelma madan mariyo, poshan bu maal kariyo |
| | Dosai wanai tos lagan, kahni karaan |
| | Tchoor tcholhum yaa wani tchoor lo lo |
| | Dimyo dilaas gandiyo walaas |
| | Hatai waeys chhar naye log aeshk naaras |
| | Yem chaaney zeajmei |
| | Madano lolik aalav traavey baavye dilkee haal |
| | Arinee rang gome |
| | Yaaro be pheeras yaarbalan |
| | Amiyari karnas bambray (with Vijay Malla) |
| | Aakh asun chanyan |
| | Shoke chane gose dewanay |
| | Zinda panas gach marunya |
| | Raze hamsaye ghar chamye |
| | Hye ves hel tane |