Surinder Kaur is a famous Bollywood singer of

yesteryears. Her famous hindi song has been Badnaam Na Ho Jaye. During her career, she has sung several punjabi folk songs (URL). The following song is probably the only Kashmiri song she has ever sung, probably in 1960s. The other notable Bollywood singers who have sung Kashmiri songs are Runa Laila (1 song in mid 1970s) and Asha Bhosle (2 songs, somewhere in 1950s).
Singer since childhood
Among the most respectable names in the world of Punjabi folk singing, one that has achieved the status of a living legend is that of Surinder Kaur.
Since the 1940s, Surinder Kaur has rendered classical and folk tunes that have been admired by generations. The fountainhead of a whole new style of singing, she has earned deep respect from present-day singers and the public alike.
The legendery vocalist and her daughter, Dolly Guleria, form a mother-daughter duo. Music for them is something that comes from the heart; it is not merely a profession. That feeling continues to this day, unruffled by international recognition.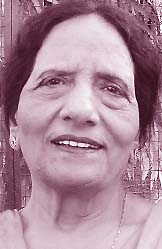 Talking to ANI, Surinder Kaur said: "Singing has been an attraction for me since childhood. My parents didn't allow me to perform, saying it was not acceptable for a Sikh girl to do any such thing".
"It was quite a struggle. I auditioned for a children's programme and started doing a programme on the radio in 1943. But I wanted to continue learning and was instructed by some eminent classical singing gurus," she added.
From a humble beginning to high-profile international honours and awards, this nightingale of Punjab has come a long way over the decades.
Her depth and intensity, the poise of her stage performances still hold audiences spellbound. That stirring feel and tingle is simply not found in the artistes of today.
"The singers of today, sadly, do not sing with the strength of their voice and control, but on the beat of the music and orchestra", the singer observed.
"We have only two instruments on stage and we don't even give these instruments a microphone so that the voice dominates. The new generation should also look to improve the selection of songs. It needs a more literary refined touch", according to Surinder Kaur.
Among all her performances, the one she recalls most vividly in this one: "An Army General was with me in the jeep and he told me the entire Sikh regiment was sitting on snow, eagerly awaiting my arrival. I said I would go to them. They were housed in a gurdwara on the border".
"I was young and eager. When I began to sing, the soldiers danced in joy and I too danced with them. It is a scene I shall remember all my life", she said.
Today it is her daughter, Rupinder, better known as Dolly Guleria, who holds the centrestage, singing on the lines of her mother. ANI
Source: http://www.tribuneindia.com/2002/20020131/edit.htm#7
| | |
| --- | --- |
| | Title |
| | Gari draam kemi taam draaye lo lo |