M. K. Raina & Neelam Trakru
NOTE: Click on any Nagari-Kashmiri image to listen to the audio clip
Model Passage I
A Conversation




Kaul Sahib: Namaskar. Please be seated. I didnít place you. Can I do something for you ?


Rajinder: I am Rajinder. We have recently shifted here from Jammu. We are now your neighbours on the fourth floor. Being a Kashmiri, I thought of meeting you.


Kaul Sahib: Nice meeting you. What gets you to Mumbai.


Rajinder: I am an engineer and I have got a job with a company at Andheri.


Kaul Sahib: Well. Who else is in your home ?


Rajinder: I have my parents with me. My father is a retired government servant. My wife is M.A. and she is on the lookout for a job. I have two children, a son Ashwin and a daughter Shifali.


Kaul Sahib: In which class are they studying ?


Rajinder: Ashwin reads in 8th class and Shifali in 7th class.


Kaul Sahib: That is good. Are you from proper Srinagar ?


Rajinder: Yes, from Rainawari.


Kaul Sahib: How do you feel being in Mumbai ?


Rajinder: I am very glad to be here. I attended the Hawan ceremony at Kashyap Bhawan last month along with my family members. They were all thrilled to get in touch with the biradari. People here are very nice and helpful. For a while, I forgot that I was at a new place. O.K. Let me take your leave.


Kaul Sahib: No. Let us have tea first.


Rajinder: No f.mp3ality. I have had tea just now.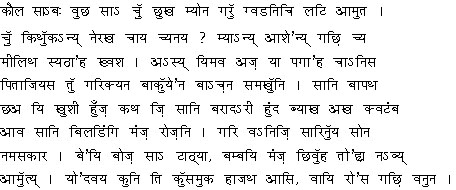 Kaul Sahib: You have come to my home for the first time. How can you go without tea ? My wife will be very glad to meet you. We will certainly drop in at your place today or tomorrow to meet your father and other family members. We are indeed happy that we have another member from our community in our building. Do convey our good wishes to your family. Since you are new to Mumbai, do not hesitate to ask for any assistance.


Rajinder: Thank you. You have been very nice. I am also happy to have neighbours like you. O.K. Bye.